Press Release

Incheon Port achieves the best performance in 2017 container volume with 3.05 million TEU
PRESS RELEASE 게시글 보기

2018.02.05.
935

incheon port achieves the best performance in 2017 container volume with 3.05 million teu.doc
○ Incheon Port Authority (www.icpa.or.kr, CEO Nam Bong Hyeon) stated on the 29th that the 2017 container volume of Incheon Port achieved a 'record high figure' with 3,048,516 TEU which is a 13.8% increase from the previous year. This is a 370,000 TEU increase from the 2.68 million TEU in 2016.
* (Container volume in the past 5 years) '13 2.16 mil.→'14 2.33 mil.→'15 2.38 mil.→'16 2.68 mil.→'17 3.05 mil.
○ In addition, after achieving the monthly performance of 270,000 TEU for the first time in November last year, Incheon Port processed 278,000 TEU in December, recording the 'best performance per month'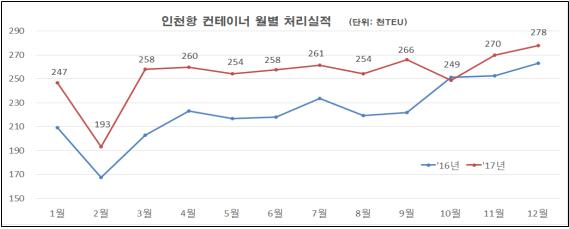 Monthly container processing performance at Incheon Port (Unit: 1,000 TEU)
○ The container volume of 2017 was 1,527,931 TEU for import and 1,450,519 TEU for export which is a 11.2% and 13.2% increase respectively compared to the previous year. Trans-shipment and coastal container volume recorded 24,474 TEU and 45,593 TEU respectively.
○ As for the container volume for import per country, China (870,081 TEU), Vietnam (160,613 TEU) and Iran (21,758 TEU) recorded a clear increase rate of 75,374 TEU (9.5%), 25,921 TEU (19.2%) and 15,419 TEU (243.2%) respectively.
○ The import proportion per country was China with 56.9%, Vietnam with 10.5%, Thailand with 6.2%, Malaysia with 3.5%, Indonesia with 3.4% in order and the container import from these countries took up 80.6% of the total import container volume.
○ As for the container volume for export per country, China (951,423 TEU), Iran (18,197 TEU), Taiwan (78,248 TEU) showed increase of 160,195 TEU (20.2%), 13,383 TEU (278.0%) and 12,802 TEU (19.6%) respectively.
○ The export proportion per country was China with 65.6%, Vietnam with 7.6%, Taiwan with 5.4%, Hong Kong with 3.2%, Thailand with 1.7% in order and the container export to these countries took up 83.5% of the total export container volume.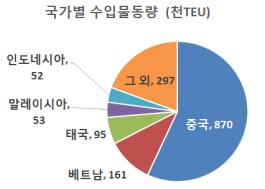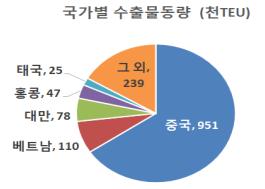 ○ As such, it has been analyzed that such performance could be achieved due to the improvement in services by the relevant institutes at port such as the quarantine and customs as well as quay operators and the efforts of collaboration in order to attract new sea routes.
○ Furthermore, he explained that it was the result of consistently unfolding marketing activities that directly linked the shippers and forwarders based on the analysis result of logistics route of high value added refrigerated and frozen freight including fruits and food materials and target cargo types capable of generating stable, massive freight such as dry grass, timber, feed, waste paper, scrap metal and others.
○ Nam Bong Hyeon, CEO of Incheon Port Authority stated that "Thanks to the successful full-out opening of Incheon New Port last year and 4 newly established sea route services to China and South East Asia, we achieved the highest container volume in history" and that "In order to achieve the target container volume of 3.3 million TEU this year, we will engage in a more aggressive marketing and improve port facilities and services such as building a shed for empty containers as part of measures to support the increase of container volume".